by Amelie Jutras
Hi everyone! Amelie with you today! I present today my first creation of January. A very wintery layout because here in Quebec, we are buried under the snow and it is very cold!
I started my layout with a paper from the collection "Ubud Dreams" of Kaiser Craft, on which I applied a layer of clear gesso. Using a Tim Holtz stencil, I added some modelling paste. Once dried, I started playing with Tim Holtz Distress Spray Stain "Cracked Pistachio" inks as well as "Tilt-a-Wheel Teal" and "Tibetan Poppy Teal" by Lindy's Stamp Gang. To finish my background, I added a stamp to several random places and I added drops of white gesso.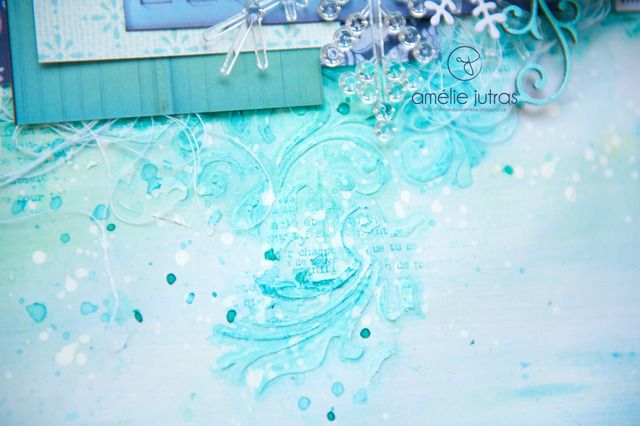 Once my paper assembly done, I added the ornaments. I started with a large acrylic snowflake from a discount store, a few cuts of a snowflake die.
As a Scrap FX products, I used a new Mechanical Spike D Love chipboard that I covered with Lindy's Stamp Gang's "Tilt-a-Wheel Teal" embossing powder. I also used the Live Laugh Love Mini chipboard, covered with the same powder to emboss.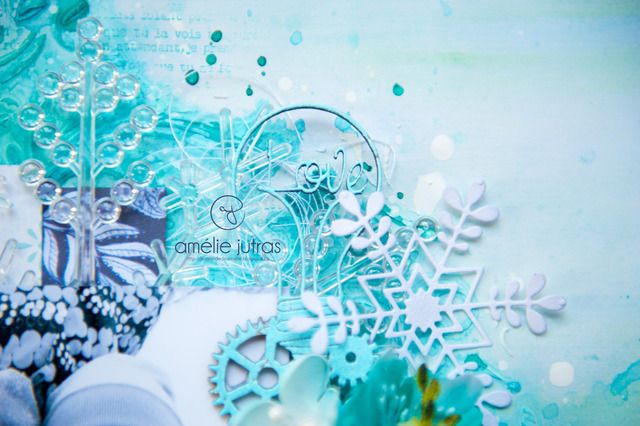 To finish I added some flowers, so some handmade, a badge and 123 Scrap stickers.
Thank you for your visit!
Amelie